Use our extensive flight search calendar to find the best travel dates for your flights to Bangalore, India. Our advanced search platform and itinerary planning calendar allow you to explore various flight options and compare prices from multiple online booking platforms.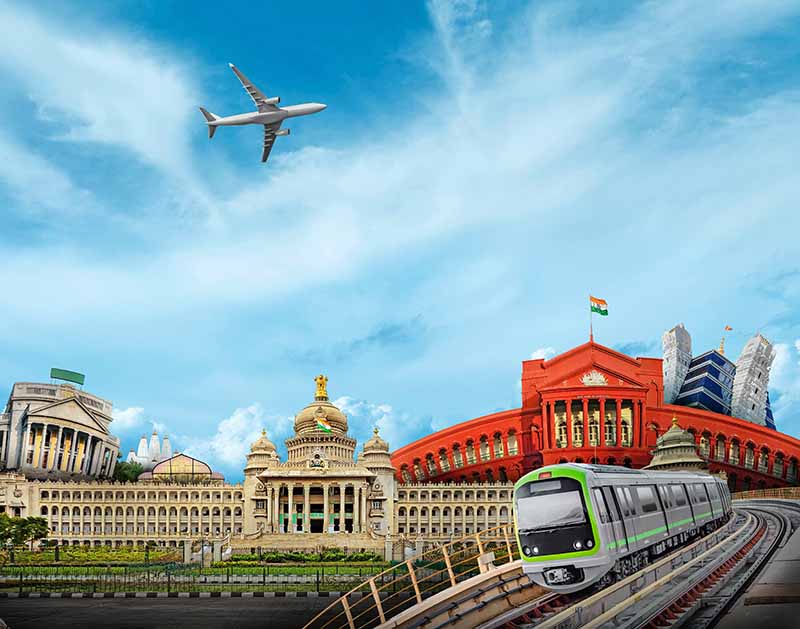 Here you can easily secure the most cost-effective airfare for your trip. With our trip search calendar, discovering the optimal flight dates to Bangalore has never been easier.
Using our search features you can:
Compare all airlines, booking systems, and travel agencies,
No need to search on several travel agencies for flights to Goa,
We'll compare all airfares and show you the best offers.
Flights to Bangalore
Bangalore flights calendar
Our flight calendar offers an easy and convenient way to find the most cost-effective travel dates for your trip to Bangalore, India. By using our smart trip search tools, you can easily compare and browse the prices for both direct and connecting flights to Bangalore from a variety of online booking platforms, travel agencies, and airlines.
How to use cheap flights calendar
Select your location from the top left side of the calendar
See the cheapest price for each month for the flights to Bangalore from your location
Click on the month window to see the exact date of the cheapest flight
You can click on the date window to see the flight details on the new page
Click on the flight details button to see the full terms of the flight or book the air ticket on the specified reservation service
You can use the settings on the top left side of the calendar to change the type of flight (one-way or two-way)
12 things to do in Bangalore

Visit the Lalbagh Botanical Garden: This sprawling garden features over 1,000 species of plants, including some rare ones. It's a great place to unwind and take a leisurely stroll.
Explore the Tipu Sultan's Summer Palace: This palace was built in 1791 and is a fine example of Indo-Islamic architecture. It's now a museum and is open to the public.
Take a walk along the historic MG Road: This bustling street is lined with shops, restaurants, and cafes, and is a great place to people-watch.
Explore the Bangalore Palace: The palace was built in 1887 and is a fine example of Tudor-style architecture. It's now open to the public and visitors can take a guided tour of the palace.
Experience the nightlife at Koramangala: This is one of the hippest neighborhoods in Bangalore, with plenty of bars and clubs to choose from.
Visit the Bull Temple: This temple is dedicated to the sacred bull, Nandi, and features a giant statue of the bull that's carved out of a single stone.
Go on a food tour: Bangalore is famous for its delicious South Indian cuisine, and a food tour is a great way to experience the city's culinary delights.
Visit the Bangalore Fort: This fort was built by Kempe Gowda in 1537 and has stood the test of time. It's a great place to learn about Bangalore's history.
Take a day trip to Nandi Hills: This scenic hill station is located just outside Bangalore and offers breathtaking views of the surrounding countryside.
Watch a cricket match at the M. Chinnaswamy Stadium: This stadium is home to the Royal Challengers Bangalore and is a great place to watch a game of cricket.
Visit the National Gallery of Modern Art: This gallery features works by some of India's most famous artists and is a great place to explore Indian art.
Go on a cycling tour: Bangalore is a great city for cycling, and there are plenty of cycling tours that take you through some of the city's most interesting neighborhoods.
If you are seriously planning a trip to Bangalore then this guide is for you!
Compare hotels in Bangalore before reserving your stay.
The staff of the India Directions Travel Magazine content creators and editors. We feature useful information and beneficial details for cheap flights, hotels and travel itineraries to Indian destinations.
During the 75th-anniversary program of Ashok Leyland in Chennai, Union Minister of Road Transport and Highways Nitin Gadkari declared that,...