Air India's biggest ever aircraft order to change the market face soon
Air India is placing orders for 470 Boeing and Airbus aircraft, underlining the surging demand for increased mobility in a nation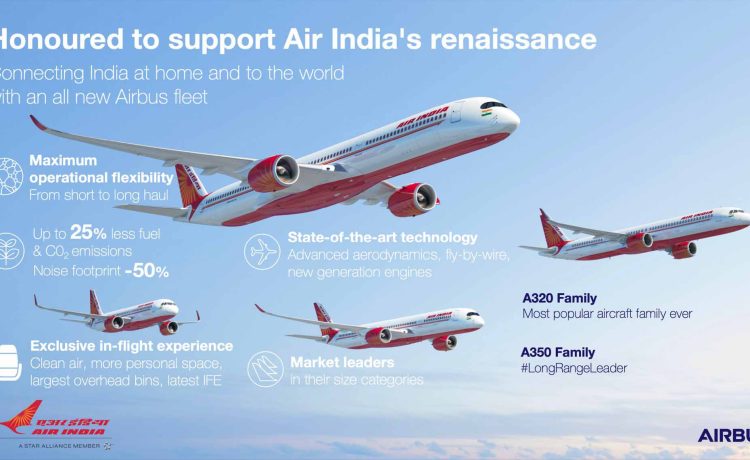 Highlighting the growing demand for increased mobility in a country with a rising middle class, Air India has placed orders for a total of 470 Airbus and Boeing aircraft.
Of this, 220 Boeing planes have been ordered at a value of $34 billion, including 190 737 Max, 20 787s, and 10 777Xs, with options for an additional 50 737 MAXs and 20 787s, bringing the total to 290 aircraft worth $45.9 billion at list price.
This order represents the second-largest quantity and the third-largest value sale in Boeing's history.
"This purchase will support over 1 million American jobs across 44 states, and many will not require a four-year college degree, said President Joe Biden. "This announcement also reflects the strength of the U.S.-India economic partnership. Together with Prime Minister Modi, I look forward to deepening our partnership even further as we continue to confront shared global challenges—creating a more secure and prosperous future for all of our citizens."
During a video conference with Indian Prime Minister Narendra Modi and French President Emmanuel Macron, Tata Sons Chairman Natarajan Chandrasekaran announced that the airline plans to purchase a total of 250 Airbus planes. This includes 40 wide-body A350 aircraft and 210 narrow-body A320neo planes.
"This important deal shows, along with the deepening of relations between India and France, the successes and aspirations of the civil aviation sector in India," Modi said during a video ceremony with French President Emmanuel Macron.

"This achievement shows that Airbus and all its French partners are fully dedicated to develop new areas of dedication with India," Macron said.
Although the financial details of the deal have not been disclosed, it is believed to be valued in the tens of billions of dollars. Airbus, based in Toulouse, France, has not provided any further information about the agreement.
"Today is a historic moment for India, for Air India and for Airbus," Airbus CEO Guillaume Faury said in the video call. The size of the order "demonstrates the appetite for growth in the Indian aviation industry. It's the fastest growing in the world."
To stay competitive in India's airline industry, Air India, which is the country's largest international carrier and second-largest domestic carrier, is looking to modernize its fleet and expand its operations. This move is part of the airline's effort to revitalize its business. By adding new aircraft, Air India aims to better compete with IndiGo, which is currently the dominant carrier in India.
According to Chandrasekaran, the A350s will be utilized for "flying all ultra long distance across the globe," while the single-aisle A320s will primarily operate on short-haul routes. Additionally, he mentioned that the airline has ample options to expand its order.
Last year, Tata Sons, India's biggest and most historic conglomerate, regained ownership of the indebted national carrier. The Tata Group was the first to introduce commercial aviation in India by launching the airline in 1932, which was then nationalized by the government in 1953.
A total of 495 new planes will be acquired by the Indian Air airline, consisting of an order of 220 aircraft from Boeing, an order of 250 planes from Airbus, and an additional agreement to lease 25 planes from Airbus.
The staff of the India Directions Travel Magazine content creators and editors. We feature useful information and beneficial details for cheap flights, hotels and travel itineraries to Indian destinations.
According to reports, India recorded a total of 12.9 million domestic airline passengers in April. Compared to 2019, domestic air...